A 42-year old  Vermont teacher who claims to have waited "decades" to see a woman become Vice President knitted a pair of mittens worn by avowed Socialist and failed United States presidential candidate Bernie Sanders during the inauguration of America's latest President, Joe Biden*.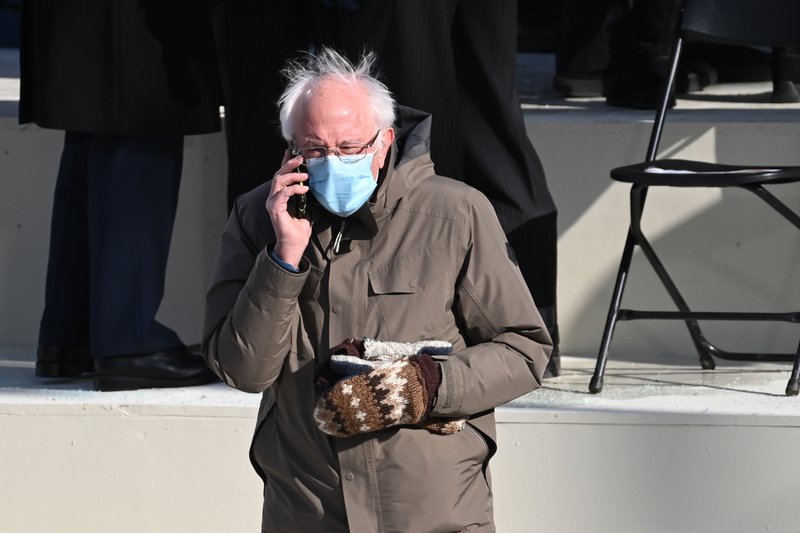 And this is what Jen Ellis, who's knitted mittens are now desired by over 13,000 (I presume) Bernie supporters, had to say about her instant opportunity for entrepreneurship:
"People have been contacting me thinking that they can get mittens, and actually they can't…Independent crafters get really taken for a ride by the federal government. We get taxed to the nth degree, and it wasn't really worth it pursuing that as a business, even as a side hustle."
Of course, instead of waiting for a pair you can just make your own.
---
A 43-year old a college dropout and
former drug addict
who
failed in just about everything he tried
in life spent the last dollars he had to make about a dozen hand-made pillows he sold at a local Minnesota fair. With the money he made he started selling pillows from a kiosk in a local shopping mall.
Today, the Chaska, Minnesota-based company My Pillow, owned by college dropout Mike Lindell currently employs about 1,500 workers, hires locally, generates about $400,000,000 in revenue a year, and has sold over 41,000,000 pillows? Mr. Lindell is estimated to be worth $300 million, runs a charitable foundation, supports Pro-Life groups, and donates pillows to those in need.
And this is what Mike Lindell, who's sold over 41,000,000 pillows, as well as other sleep products, had to say about his instant opportunity for entrepreneurship:
"Every success story in this country was because of capitalism. Everything we're doing. Look at my story. It couldn't be done."
In case you're curious, the MyPillow pillow is protected by United States Patent Number 7,461,424 B2 Click the link to read why if you look carefully in some of the My Pillow ads you'll see three little jars filled with foam pieces.
---
UPDATE

:
Seems Jen Ellis may have been bitten by the bug of Capitalism after all:
Click here
to order a pair of Bernie Sanders' Mittens for yourself! I admire and respect her altruism, donating 100% of the proceeds to charity: Being a teacher must pay pretty well in Vermont…or, perhaps, she doesn't want to "Capitalize" on a self-declared Socialist.
Thanks for Reading! (and, stay warm and comfy!)