Nope, I'm not talking about that historic battle in Texas which occurred on this date in 1836, where as many as 257 Texans were killed defending the San Antonio de Valero Mission against a Mexican Army force of about 1,800 at the end of the Texas Revolution…although Americans – and especially freedom-loving Texans – should remember it.
I'm talking about the Alamo Drafthouse Cinema, a dinner and cinema chain with 18 company-owned locations and 23 affiliated locations around the country, mostly in Texas.
A day after Texas Governor Greg Abbott announced the Great State of Texas would no longer require people wear face masks and allow businesses to fully reopen to their usual business hours at maximum customer capacities, the dine-in cinema chain Alamo Drafthouse Cinema filed for Chapter 11 Bankruptcy…apparently, on the very same day the Alamo Drafthouse announced they would continue to follow the CDC's recommendation requiring customers wear masks and practice social distancing by staying at least 6 feet apart: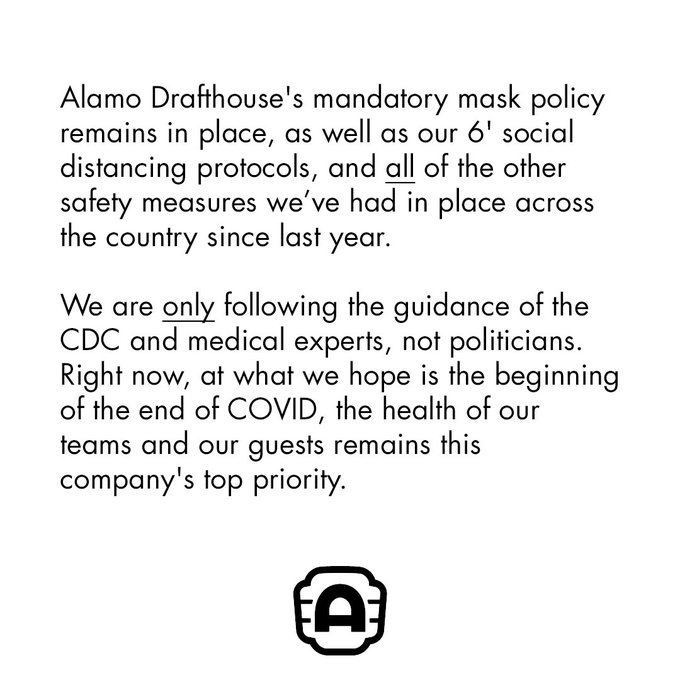 It makes me wonder, is this just bad business management, bad planning, bad timing, bad Karma…or, just plain bad?
Thanks for Reading!